1.
MY NOTE: This is my favorite shoe suggestion organization. Sorry, but I can not find where to order this Shoe incline organizer..
shoe storers maximise the vertical space in your wardrobe and will halve your storage! Height adjustable and easy to access, they can be used with flats as well as high heels.
2.
3.
ebay.com on portable clear plastic drawers
4.
sawdustfirl.com on shoe peg organization
5.
As much as I want to have a wardrobe as big as this our room size is small for this if you can however, during renovation or building a new house you can adjust for this.

6.
arielvenereal.com



7.
8.
containerstore.com on clear stack-able shoe drawer


9.
If I may suggest to have a sliding shelves for easy access, no matter what kind of cabinet you will have.

10.
Camp Clem



11.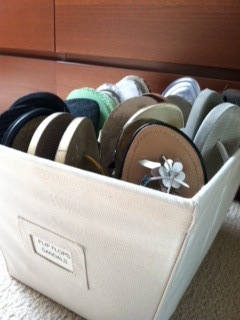 Basket/Clear plastic bins or Open Canvas Storage Bins for slippers, flat shoes and sandals
amazon.com on
12. Over-The-Door Shoe Rack or

Over the Door Hanging Shoe Organizer
amazon.com