Water bodies are areas of water, both salt and fresh, large and small, which are distinct from one another in various ways. The largest water bodies are oceans, while the smallest are brooks or streams. Smaller accumulations of water, such as puddles or swimming pools are not usually referred to as bodies of water in the geographical sense.
Ocean
credit: estivillml/iStock/Getty Images
Oceans are large water bodies, made up of salt water. The Pacific Ocean is the largest ocean on earth, covering one-third of the earth's surface. The Pacific Ocean is followed by the Atlantic Ocean and the Indian Ocean in size. Oceans are important for providing food, through the many fish species that populate the oceans, for air quality and for transport via ships.
Sea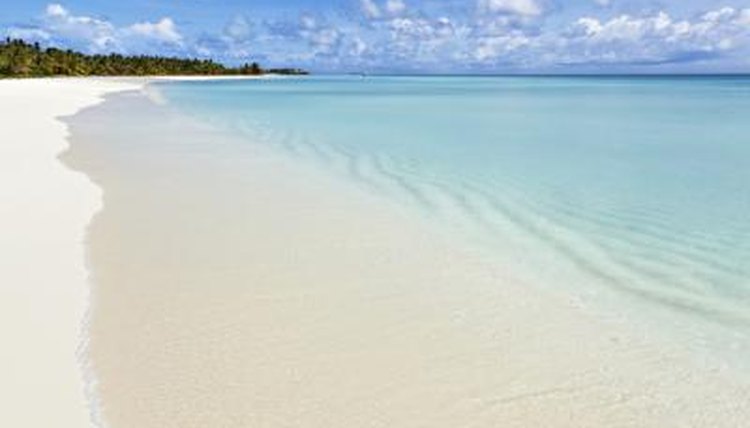 credit:kaliostro/iStock/Getty Images
Seas are smaller bodies of water than oceans, but still large water bodies, partly enclosed by a land mass and connected to an ocean. The largest of the earth's seas is the South China Sea, which holds hundreds of islands in its waters. The Caribbean Sea, Mediterranean Sea and the Bering Sea are some of the world's largest
Different Types of Water Bodies w/picture
Lake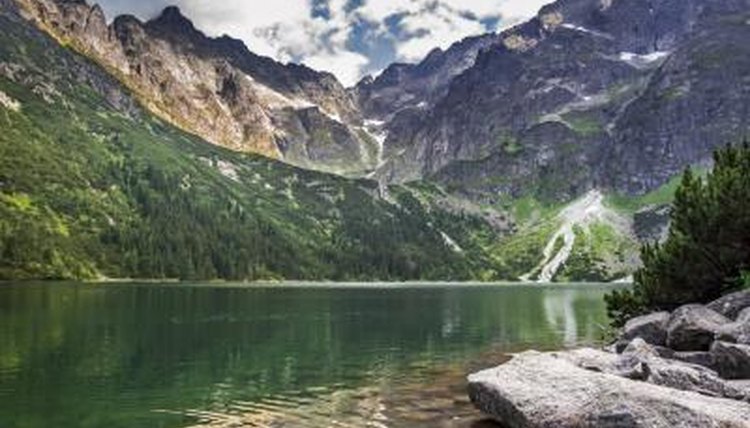 credit: Shaiith/iStock/Getty Images
A lake is a body of water completely encapsulated by land. When a lake is very large, it is sometimes called a sea, despite not being connected to an ocean, such as the Caspian Sea in central Asia. The Caspian Sea is the World's largest lake, followed by Lake Superior in the US, Lake Victoria in Africa and Lake Aral in Russia . Lakes can be either salt or freshwater.
River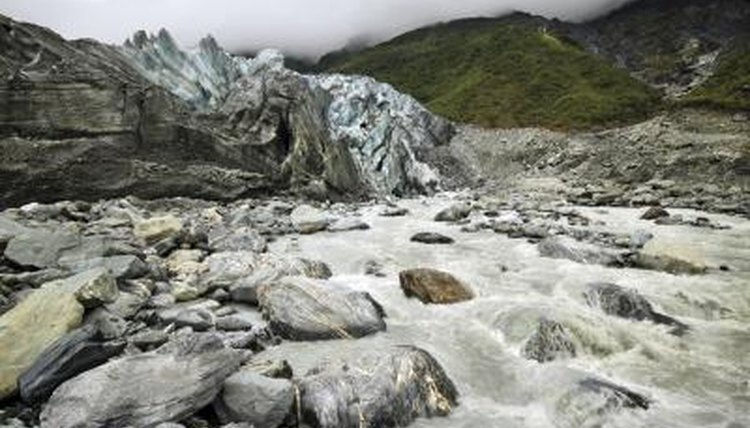 cerdit: blagov58/iStock/Getty Images
Rivers are large flowing water bodies that typically end in an ocean or sea. Rivers are freshwater bodies of water that usually originate in mountains or areas of high elevations, and are added to by smaller bodies of water such as creeks or streams, as well as by rainfall. Rivers are historically very important for trade and transportation, and many settlements were built alongside rivers for these reasons. Rivers also provide a source of energy generation. The world's longest river is the Nile in Egypt, followed by the Amazon River in South America, and China's Yangtze and Yellow Rivers.
Glaciers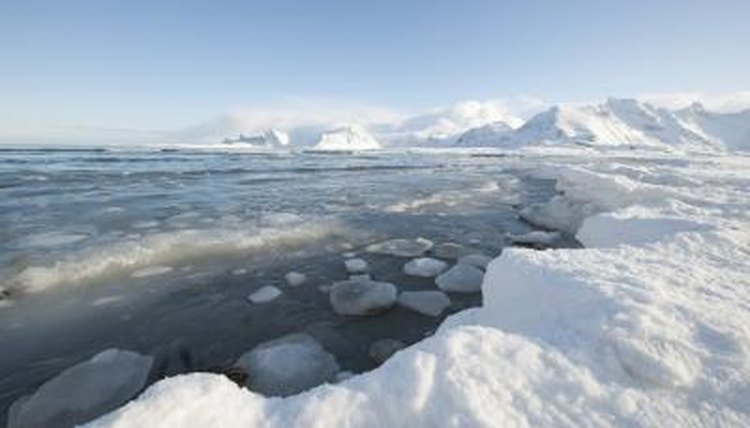 credit: moodboard/moodboard/Getty Images
Glaciers are frozen rivers, which move very slowly. According to the National Snow and Ice Data Center, glaciers store around 75 percent of the world's freshwater, which means if they melt, sea levels would rise by up to 230 feet. Glaciers are ancient bodies of water, with some, such as the Arctic Ice Sheet being over 40 million years old.
credit/source: http://sciencing.com/different-types-water-bodies-6525786.html
Names for Water Bodies
Definitions of Lakes, Rivers, Seas, Oceans, Bays, Streams, and More
Water bodies are described by a plethora of different names in English -
rivers
,
streams
, ponds, bays, gulfs, and seas to name a few Many of these terms' definitions overlap and thus become confusing when one attempts to pigeon-hole a type of water body. Read on to find out the similarities (and differences) between terms used to describe water bodies.
We'll begin with the different forms of flowing water.
The smallest water channels are often called brooks but creeks are often larger than brooks but may either be permanent or intermittent. Creeks are also sometimes known as streams but the word stream is quite a generic term for any body of flowing water. Streams can be intermittent or permanent and can be on the surface of the earth, underground, or even within an ocean (such as the
Gulf Stream
).
A river is a large stream that flows over land. It is often a perennial water body and usually flows in a specific channel, with a considerable volume of water. The world's shortest river, the D River, in Oregon, is only 120 feet long and connects Devil's Lake directly to the
Pacific Ocean
.
A pond is a small lake, most often in a natural depression. Like a stream, the word lake is quite a generic term - it refers to any accumulation of water surrounded by land - although it is often of a considerable size.
A very large lake that contains salt water is known as a sea (except the Sea of Galilee, which is actually a freshwater lake).
A sea can also be attached to, or even part of, an ocean. For example, the Caspian Sea is a large saline lake surrounded by land, the Mediterranean Sea is attached to the Atlantic Ocean, and the Sargasso Sea is a portion of the Atlantic Ocean, surrounded by water.
Oceans
are the ultimate bodies of water and refers to the five oceans - Atlantic, Pacific, Arctic, Indian, and Southern. The equator divides the Atlantic Ocean and Pacific Oceans into the North and South Atlantic Ocean and the North and South Pacific Ocean.
Coves are the smallest indentations of land by a lake, sea, or ocean. A bay is larger than a cove and can refer to any wide indentation of the land. Larger than a bay is a gulf which is usually a deep cut of the land, such as the Persian Gulf or the Gulf of California. Bays and gulfs can also be known as inlets.
Any lake or pond directly connected to a larger body of water can be called a lagoon and a channel explains a narrow sea between two land masses, such as the English Channel.
credit/source: https://www.thoughtco.com/names-for-water-bodies-1435366


Types of Water Bodies
We all know how important water is to us. 3/4 of the earth's surface is covered with water. This water is distributed throughout the planet in various forms and shapes, called the various water bodies. These water bodies differ in size, right from huge ones like oceans and seas to the small ones like ponds. Thus the various water bodies we see on the earth's surface are in the form of oceans, seas, lakes, rivers, ponds, waterfalls etc.
Different Bodies of Water and their Characteristics
Let us travel the earth and learn about these various water bodies found only on our beautiful planet.
Oceans:
The oceans are vast and deep bodies of water. Usually, it is these oceans that separate continents from one another. The oceans are bodies of salt water.

We have five oceans in our world. They are the Pacific Ocean, the Atlantic Ocean, Indian Ocean, Arctic Ocean, the Southern Ocean or Antarctic Ocean.

The largest and deepest ocean in the world is the Pacific ocean, covering one-third of the earth's surface.

This is followed by the Atlantic ocean and the Indian ocean in order of size.

Oceans are home to a variety of plants and seaweed and thousands of sea creatures like the sea urchins, whales, sharks, octopus, a variety of fish, snakes, squids etc.

In fact, oceans also contain millions of tiny dead animals called coral polyps which form the beautiful coral reefs, Australia being the largest coral reef in the world.

Oceans are useful to us in many ways as they are a rich source of minerals, they provide energy and valuable fuels like petroleum.

They work as an important channel of transportation.
Seas:
Seas are also big water bodies but are definitely smaller than oceans. They are partly enclosed by a land mass and open into the ocean.

We see many seas eventually connecting to the oceans. For example we have the Mediterranean Sea which is attached or joins the Atlantic Ocean.

Some of the seas are the Red Sea, the Black Sea, the Arabian Sea, Caribbean Sea and the Mediterranean Sea.

The Red and the Black Sea, have got their names because the Red Sea has millions of red tiny plants growing at the bottom and the Black Sea because of the thick black mud that lies at its bottom.

Under the seas we find huge plains, high mountains and even deep valleys, interesting isn't it, that these various landforms are also present under the sea.

The largest of the seas is the South China Sea which is supposed be holding hundreds of islands in its waters .

The sea, like the oceans is useful to us in many ways.It is a rich source of food providing us with various kinds of sea food.

It also works as a channel for transportation.

Like oceans, seas are a source of food, and are also usually used extensively as transport lanes for ships.
Lakes:
A lake is a water body surrounded by land on all sides. It is actually the opposite of an island, which is a piece of land surrounded by water on all sides.

Lakes can be salty or fresh water lakes. Salty lakes are due to a lot of evaporation taking place.

Some famous lakes are-Lake Superior, Caspian Sea, Lake Victoria, Lake Aral and the Dal Lake .

In fact the Caspian Sea is the world's largest salt lake, it is so big that it is referred to as sea.

Lake Superior is the biggest fresh water lake.

It is said that nothing can survive in the Dead Sea because it is very salty.
Rivers:
Rivers are large streams that flow over the land. They are hence large flowing water bodies, they usually end up in an ocean or sea.

Rivers are fresh water bodies which generally originate in mountainous areas or elevated areas.

We have basically two kinds of rivers which are, the Snow-fed rivers and the second is the Rain-fed rivers.

Snow-fed rivers find their source in the snow capped mountains, where the snow melts, flowing down forming rivers, rain-fed rivers as the name suggests are formed in areas where it rains a lot giving rise to these rivers.

The place where a river starts its journey, is called the source and the place where it ends its journey , is called the mouth of a river.

Rivers again are very useful as we have seen in history,that most civilizations were formed near the banks of the rivers, like the Egyptian Civilization on the banks of the River Nile, the Indus Valley Civilization on the banks of the River Indus.

This is because the rivers deposit a lot of fertile soil called silt which is excellent for the growing of crops.
Gulf:
A gulf is a large area of an ocean or a sea that is partially enclosed by land.
For Example the Gulf of Mexico.
Bay:
A bay is a body of water, which is again partially enclosed by land. It is a wide mouth opening of land, where the water is surrounded by land on three sides and is joined to the sea on the fourth side.
For example the Bay of Bengal
Lagoon:
A lagoon is a lake separated from the open sea by sand or rocks.

Lake Chilika in Orissa, India is an example of a lagoon.
Strait:
A strait is a narrow stretch of water which joins two larger water bodies.
Waterfall:
Water falling from a height is usually called a waterfall. A waterfall is formed when a river flows over an edge of hard rocks and falls from a great height.

Waterfalls make beautiful tourist spots and are helpful in generating hydroelectric power.

The Angel falls in South America are the world's highest waterfall.
credit/source: http://mocomi.com/types-of-water-bodies/
| | |
| --- | --- |
| Bodies of Water (and Related Words) Vocabulary Word List | |



A

alluvial fan
arm of the sea
arroyo



B

basin
bay
bayou
bend
bight
billibong
bog
brook



C

canal
cataract
channel
coral reef
cove
crater lake
creek



D

dam
delta



E

estuary



F

falls
fen
firth
fjord
fork



G

geyser
glacier
glacier cave
gulch
gulf
gully



H

harbor
headland
headwaters



I

iceberg
ice cliff
ice field
inlet
island
islet



K

kettle
kill



L

lagoon
lake
loch



M

mangrove swamp
marsh
meander
mid-ocean ridge
millpond
moat
mouth
mud flat



N

narrows
neck



O

oasis
ocean
oceanic trench
oxbow lake



P

playa
pond
pool
port
prairie
puddle



R

rapids
reef
reservoir
ria
river
riverbed
river delta
rivulet
run



S

salt marsh
scarp
scree
sea
sea cave
seashore
shallows
shoal
shore
shoreline
slough
sound
source
spring
strait
stream
subglacial lake
surf
swamp



T

tidal basin
tide pool
tributary



W

wash
waterfall
watershed
waterway
wetland
credit/source: Http://Www.Enchantedlearning.Com/Wordlist/Bodiesofwater.Shtml


World's Major Bodies Of Water
Important and/or Significant Bodies of Water List
Including bays, canals, channels, falls, gulfs, lakes, oceans, rivers, seas and strait
Please click the link for complete below detail and meaning in alphabetical order;
credit/source:
http://www.worldatlas.com/aatlas/lista.htm
Additional information:
credit/source: https://en.wikipedia.org/wiki/Body_of_water
Note: All sources and references are credit to original writer/writers including the images featured.