Banaue Rice Terraces
Banaue rice terraces has been described as the eighth

wonder of the world

. Carved out of the hillside by Ifugao tribes people 2000 to 3000 years ago without the aid of machinery to provide level steps where the natives plant rice. And they are still in use today.
Banaue rice terraces stretch like
stepping stones
to the sky - some reaching an altitude of 1500m (4920ft). It is considered as one of mankind's greatest engineering feat. If the terraces were laid end to end, they would stretch half way around the world.
One of the major appeal of Banaue rice terraces to the local and international tourist are the many

hiking

trails in the area. There are many young locals, mostly

college

students who serve as guides. But

with or without

a guide, you will find the friendliness and warmth of the Ifugao people endearing.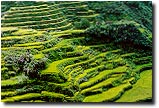 The Banaue Rice Terraces are

now showing

signs of erosion. Some areas needs maintenance as some of the new generation Ifugaos are migrating to the cities looking for better opportunities. That given, the terraces still never fails to awe the traveller.
Aside from Banaue rice terraces, nearby are other similar Ifugao terraces in the Cordilleras region:
BATAD rice terraces. Also located in Banaue, it is home to the spectacular tiered, amphitheatre-shaped terraces.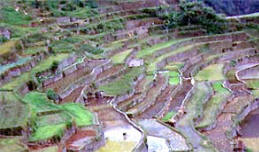 MAYOYAO rice terraces is similarly situated in Banaue. The organic Ifugao rice called Tinawon, in red and white variety, is harvested here in abundance.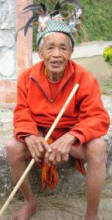 HAPAO rice terraces. Its stone-walled rice terraces date back to 650 AD and is located in Hungduan, where Napulawan terraces can also to be found.
KIANGAN rice terraces. It is home to two famous rice terraces sites namely: Nagacadan and Julungan, known for their size and visual impact.
Banaue rice terraces, although a bit far from
Manila
is one of the most awesome destinations in the
Philippines
. Visitors never regret spending time and resources to see its beauty and grandeur. One cannot but ponder how the Ifugaos made it all using just their bare hands...
In 1995, the clusters of terraces at Bangaan, Batad, Mayoyao, Nagacadan & Hungduan, in Ifugao were declared UNESCO World Heritage Sites.
How to get to Banaue Rice Terraces:
From Manila there are air-conditioned buses that go straight to Banaue, The trip takes about 9 hours. The Dangwa Transit have daily trips to Banaue Rice Terraces. Their terminals are located along Dimasalang St., Sampaloc, Manila and Aurora Boulevard, Cubao, Q.C. (Tel# 731-2879 & 410-1991). Also plying the Banaue route is Auto Bus (Tel# 735-8098) with terminals at España Blvd corner G. Tolentino St., Manila. The bus leaves at 10 PM daily and arrives at about 7AM. From

Baguio City

, there are also buses going to the Banaue Rice Terraces.
The trip will pass through the provinces of Bulacan, Nueva Ecija, Nueva Vizcaya then to Ifugao.

Accommodation

is no problem, there are several inns in town like the Banaue View Inn, People's

Lodge

, the Banaue Hotel and other lodging houses with reasonable rates. Some private homes also accept tourist and transients for a lesser charge during peak season.
Source:
http://www.philsite.net/banaue.htm
Banaue
is a town on the Cordillera mountain range in the north of the island of
Luzon
, in the
Philippines
. It is mainly visited for its stunning rice terraces, which are a UNESCO World Heritage site.
Getting to Banaue directly might take a lot of effort if you're not taking a direct route from
Manila
or if you don't have a tour agency to help you. Here are few possible ways to get to Banaue —
Manila - Banaue (direct),
Ohayami Trans

,

Lacson Ave. cor. Fajardo St., Sampaloc, Manila

(

Just near University of Sto. Tomas or take the train from the Legarda Station then just take a trickshaw to the terminal

), ☎

+63 927 649 3055, +63 917 561 7344, +63 2 516-0501

, [1].

Provides trips directly to Banaue. They have three daily trips - 21:00, 21:45 and 22:00 leaving their terminal in Manila and taking 9-10 hrs

₱450

. edit
Manila - Baguio - Banaue,
Ohayami Trans

,

Otek St., Burnham Park, Baguio City

(

within Chowking area

), [2].

8 hrs

.

Provides trips from Baguio to Banaue. They have two daily trips - 20:00, 21:00

₱360

. edit

KMS

,

Near Rizal Park, Baguio City

, ☎

09159471440

.

7 hrs

.

Provides a mini-bus trip from Baguio to Banaue. They have two daily trips: 08:00 and 21:30.

₱400

. editThe first may be a good choice if you don't like overnight buses or want to enjoy the very scenic drive during the day.
Manila - Baguio - Bontoc - Banaue.
There are jeepneys going from Bontoc to Banaue and even Sagada to Banaue during peak season or holidays.
Manila - Solano, Nueva Vizcaya - Banaue ifugao - buses heading to Tuguegarao (e.g. Baliwag transit, Victory,Florida transport inc., etc.) pass by the town of Solano. Several jeepneys ply the Solano-Banaue route or the Solano-Lagawe, Ifugao route. From Lagawe, one can then take another jeepney to Banaue.
Manila - Tarlac - Solano - Banaue - buses heading for Baguio pass by Tarlac. Vizcaya liner plies the Tarlac-Solano route at 05:00.
The distance between the Balintawak Cloverleaf, in north Manila at the beginning of the North Luzon Expressway and the Welcome to Banaue sign, is about 332 km. The road is paved all the way to Banaue. Travel time can be as long as 9 hr due to the several blind curves through the mountains.
Best day to travel is on good Friday of Lenten season, Christmas day and new year's day. It will take about 7 hr only by car with a reliable tourist drivers from Manila.
Jeepneys (converted jeeps/bus) and tricycles (trikes) (little motorcycles with side cars) are easily available around Banaue. Vans can be hired with driver/guide. Expect to hike some to great places to see that are not on the roads.
There is a public jeepney plying the Banaue-Batad (Saddle-point) (start of trek to
Batad
village) route daily. See
Get Out
, below for more info.
Rice terraces. Sometimes called the "Eighth Wonder of the World", the 2000 years old Banaue rice terraces are a UNESCO World Heritage site, and while many are still in use today, the outer rims are showing signs of deterioration. They were created by the Ifugao (local native people), in a massive engineering project to cover the sides of the valleys (probably 200 meters from floor to rim) for several miles, irrigated by means of mountain streams and springs that have been tapped and channelled into canals that run downhill through the rice terraces.
Museum of Cordilleran Sculpture

, ☎

011-63-919-774-8507

, [3].

The Museum of Cordilleran Sculpture was founded by George and Candida Ida Schenk over 30 years ago, and evolved from a small antique store in Manilla, into dream to preserve a culture that is slowly dying. There are over 1,000 pieces in the collection of the Museum, ranging from large-scale, carved wooden Bululs, masks to smaller scale figures, textiles, utilitarian objects, and composite objects
Viewpoint

.

On the road to Bontoc, there is a lot of viewpoints with beautiful panoramas on the rice terraces. Walking from Banaue up to to main view point will take 1 to 2 hours, depending how often you stop to enjoy the superb view. Try to go as far as possible from Banaue: the higher yoou will go, the more beautiful it will be! Count P100 by tricycle from Banaue. From there it's possible to go down by foot to Banaue through the rice terraces (2-3 hours) but the way is quite difficult and you may need a guide for this walk.
Contact the Tourist Information Center

, ☎

+63 74 386-4010/4011

.

When reaching Banaue, a good idea is to check the tourist information centre near the market. They have maps for P25 of the area and they can help you with finding public transport to the places you want to get to. or a private transport and they can also provide guides around Banaue.
Many kinds of carved woods.
Sanafe Lodge & Restaurant

,

Banaue Trade Center

, ☎

+63 74 386 4085

, [4].

6am - 9pm

.

Indoor and al fresco dining on a wide veranda with great views.Filipino, Asian & Western dishes. Set meals start at Php140.
Ilob Village Inn

, (

Poblacion, Banaue, 1 km from bus terminals

).

Native Ifugao house with restaurant, surrounded with rice terraces. You can also request to see a traditional Ifugao show.
The grand old lady, Banaue Hotel, is probably the priciest option you'll find but offers regular cultural shows in the evenings (Ifugao dance and music) that are also open to non-guests. The pool is small but a nice place to hang out when you're tired of trekking up and down rice terraces.
Closer to town, there are a multitude of hostels and guesthouses offering much more reasonably priced accommodations.
See more of list and contact number and information by clicking the link:
If you need any help with finding local public transport, head to the Tourist Information or ask around the marketplace.
A suggested itinerary for exploring the area can be
found here.
Batad. While the rice terraces of Banaue are mud-walled, those of Batad are stone-walled. They form an amphitheatre and are an impressive sight. Fifteen km. on bad roads, followed by a 40 minute downhill hike, but worth it. There are a number of hostels and guest houses in the small village there, overlooking the rice terraces. If weather and time permit, Batad is probably a better place to spend the night than Banaue. There is a public jeepney plying the Banaue to Saddle Point (start of 40 minutes trek to Batad village) route daily. Banaue to Saddle Point is around 2-4 pm while the Saddle Point to Banaue jeepney is around 9-10am. They may take extra trips during the peak season (e.g. Holy week). Head on to the Banaue public market and ask around. Fare is P150 for tourists while the locals pay P45. If you do not have time to spend the night in Batad, it is also possible to do it as a day trip. During busier times (public holidays, extended weekends), extra jeepneys will go up to Batad Saddle in the morning (7-8am, P150). Hike down to Batad village (40 minutes) from the Saddle, have lunch there overlooking the rice terraces and hike up back to the Saddle. Rented jeepneys that bring people to Batad will leave empty back to Banaue, so they will gladly take you with them for the normal P150 fare. In case you do not find any jeepneys or other people that might take you with them to Banaue (just ask around), you can hike down for 2 hours to reach the main road at Batad Junction. More public jeepneys will ply that route and you can make it back to Banaue from there. In the worst case scenario, Batad to Banaue is a 16km walk, mostly downhill.
Bangaan. An alternative to Batad and easier to access, since it is only a 20 minutes walk from the main road towards Mayoyao.
Hapao. A half-day trip from Banaue. More terraces. Steep steps lead down to some, giving easy access for a close-hand inspection. Near Hapao there is also a hot spring (45 minutes from the main road), where you can bathe. You can get to Hapao by using public transport that travels the route Banaue - Hungduan.
Mayoyao. There is a bus that plies the route Banaue-Mayoyao at 12pm and reaches Mayoyao at around 4pm.
Bontoc and Sagada. Bontoc is a busy town but has an excellent museum of Ifugao culture. Sagada has the impressive Sumaging limestone cave (take a change of clothes and leave your best shoes in Banaue), the Burial Cave (Lumiang) and hanging coffins. En route to Bontoc you pass the incredibly beautiful Bayo terraces. There is a jeep at 8-9am from Banaue to Bontoc, and vans around 11am, 12am and 1pm. During busier times there are some jeepneys that go all the way to Sagada, but this depends on the demand. Otherwise change to a jeepney in Bontoc to get to Sagada (50 minutes, P45). By hiring a van in Banaue (ask in your hotel) you can visit these two centres as a day trip.